About
The Corporate Body of the Buddha Educational Foundation
In 1982, Venerable Chin-kung proposed establishing a foundation in central Taipei to propagate the Buddha Dharma. In response, an eminent layperson, who owned land in a central location, immediately offered space in the twelve-story building to be constructed there. As this land was near schools, government offices, and a large university hospital, in addition to being well served by public transport, Venerable Chin-kung concluded that it would be an ideal place for a Dharma resource foundation.
The building was complete two years later, and with a board of directors in place, and the foundation registered with the government, the Corporate Body of the Buddha Educational Foundation was ready to serve the public. The library opened on the 3rd floor in April of 1984.
The library proved very popular and the foundation's activities were soon expanded. At the time, staff numbers were insufficient to cope with the demand, but Dharma friends from all walks of life rallied round to ensure that the service the foundation was providing continued unabated.
After several years of continued growth, the original space became inadequate. A Dharma supporter consequently offered a warehouse in a Taipei suburb and also the 7th floor of the original building. The former serves as a storage area for the Dharma books that the foundation publishes for free distribution, while the latter is used as a lecture room for Dharma classes.
In 1999, drawing on the foundation's experience in printing Dharma material, it was decided to embrace the computer age and to offer Dharma teachings over the web. Adopting this media has greatly enhanced the foundation's ability to present the Dharma to the general public.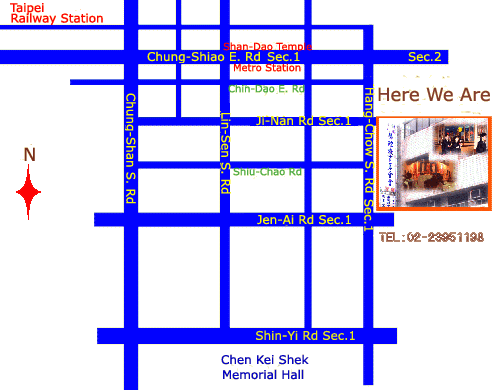 ---
Donation
Banking Information
Our organization is a non-profit government registered education and information foundation - supported by donations only. If you wish to make an donation by cheque, money or credit card via ordinary mail or fax, then please use our manual
donation form
.
Banking Information
Bank Name:
Chen Chong Branch, Bank of Taiwan.
Bank Address:
No.47, Ching Tau East Road, Taipei city, Taiwan (Post Code: 100).
Swift Code :
BKTWTWTP045
Account Name:
The Corporate Body of The Buddha Educational Foundation.
Account No.:
045004597503
Our Address:
11F, 55, Hang-Chow S. Road Sec.1, Taipei city, Taiwan. (Post Code: 100)
Credit Card Donation

Donation
form

If you wish to make an donation by money or credit card via ordinary mail or fax, then please use our manual Donation form.